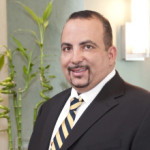 Dr. Frederick Harb, DDS has been in private practice at 833 South Wayne Road in Westland, MI since 1997. He graduated from the University of Michigan in 1996. He studied and trained at the Detroit Veterans Administration hospital to receive added training prior to the launch of his private practice.
Our mission is to provide optimal dental care in a warm and trusting environment. We dedicate ourselves to technical excellence. We commit ourselves to rendering compassionate and caring service. We vow to build doctor-patient trust relationships through honest, open communication with our patients.
My staff and I provide a comprehensive range of services including preventative care, general dentistry, children's care, emergency treatment, bonding, whitening, cosmetic dentistry, dentures, partials and implant dentistry. We stress preventative care so that your dental visits are usually uncomplicated. When you require more extensive dental care, our team of professionals will help to make your treatment pleasant. Visiting the dentist should be a positive experience.
Affiliations/Certificates/Licenses:
University of Michigan Graduate
Veteran's Administration Hospital Based Residency Program
Member of: The American Dental Association & The Michigan Dental Association